Attention! Testers needed!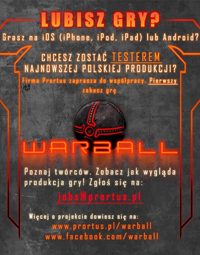 Are you an iOS player? Do you want to be one of the first players enjoying our game?
Meet the developers and be the first to play Warball!
Contanct us at
What is Warball?
Warball is a new game available on iOS devices (iPhones, iPads, iPod touch), developed by Prortus.
Unique gameplay
Are you tired of rolling through boring, simple labyrinths without purpose? Do you want to experience something more?
Get into Warball, driver! Technocron needs you!
On your path you will encounter multiple enemies, varying from little Drones to mighty Wings and Siegetanks. Of course you won't face them unarmed! Laser cannon, machine gun, or maybe rocket launcher? Choose what you want!
Rolling a ball has never been such fun!
Awesome 3D graphics
Join the Robotic War and explore vast postapocaylyptic world dominated by machines while enjoying 3D environment.
Displayed in sharp Retina resolution, of course.
3D physics
Flying and falling. Throwing crates and moving objects. Using ramps, conveyor belts, jumpers, and more...
Make use of 3D physics!